#EEBAStudentsTrip: CHANTHABURI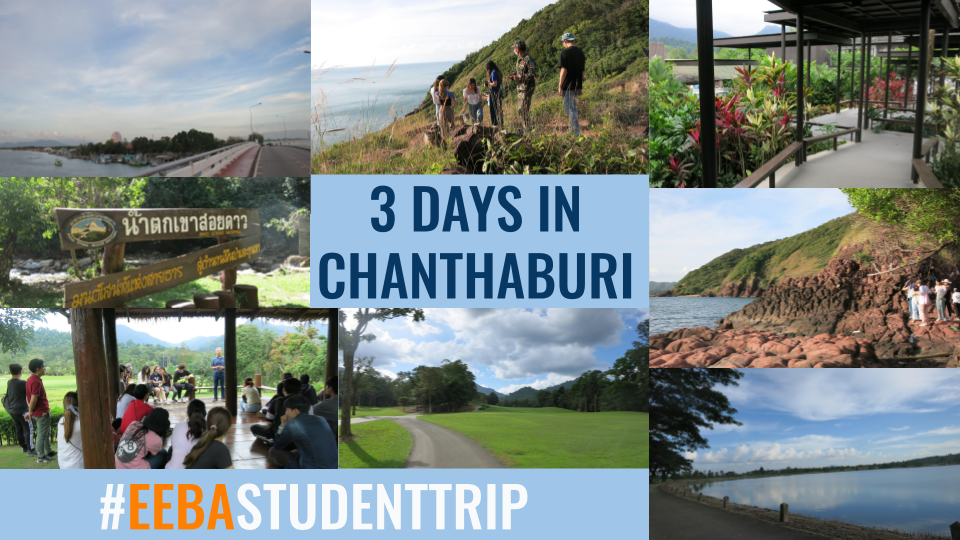 #EEBAStudentTrip: CHANTHABURI
Out of the classroom, the EEBA students studying the course subject, Economics and Business of International Tourism went in a 3-day trip to the province of Chanthaburi on November 25 – 27, 2020. The trip was a balance of educational learning and leisure which the students surely enjoyed.
Day 1
The trip started early at 5:30 am. Everyone took their seats and headed to their destination. Before the activities, breakfast was waiting for them at a nearby restaurant.
Arrived at their first stop, The Kung Krabaen Bay Royal Development Study Centre, the students started settling in. The centre was founded in 1982 to focus attention on conducting study and research on the development and improvement of fishery, propagation of marine life in the coastal areas and integrated farming practices in Chanthaburi province.
Students were given a tour to the forest trail where they were introduced to the Kung Krabaen Bay and the vast mangrove forest. Around the forest are small pavilions with information on the types of fauna and flora that they are witnessing at that time. They participated in the mangrove planting activity, and visited the centre's unit for a sea farming demonstration where they saw for themselves how the fisheries are being controlled in the area.
In the evening, students enjoyed their dinner in the city by the sea and were then given free time of their choice for the rest of the night.
Day 2
After breakfast, the day began with high energy for trekking in the Khao Soi Dao Wildlife Sanctuary. The area consists of valuable resources for conservation, such as locally famous trees, herbal plants and a famous cardamom garden near the peak. The most popular attraction is the Khao Soi Dao Waterfall where the students trekked around for 2 hours.
In the Khao Soi Dao Wildlife and Nature Education Centre, the students participated and listened to lectures given by the wildlife enthusiasts who help secure and preserve the sanctuary. Afterwards, they were given a tour around the space to enjoy the greenery.
Towards the night, after their big dinner at the hotel, the students spent the rest of their leisure time well. Some went
Day 3
Up early for the last day of the trip, the students traveled to the Chanthaboon Community. Here they visited a cathedral and learned about the community's way of promoting holistic community tourism through the people's products and services.
On the way back to the city as the 3-day trip comes to an end, they stopped by the Hin Kroong Viewpoint in Chalerm Burapha Chonlathit Road.