"EEBA Alumni: The Waffle Business Heir"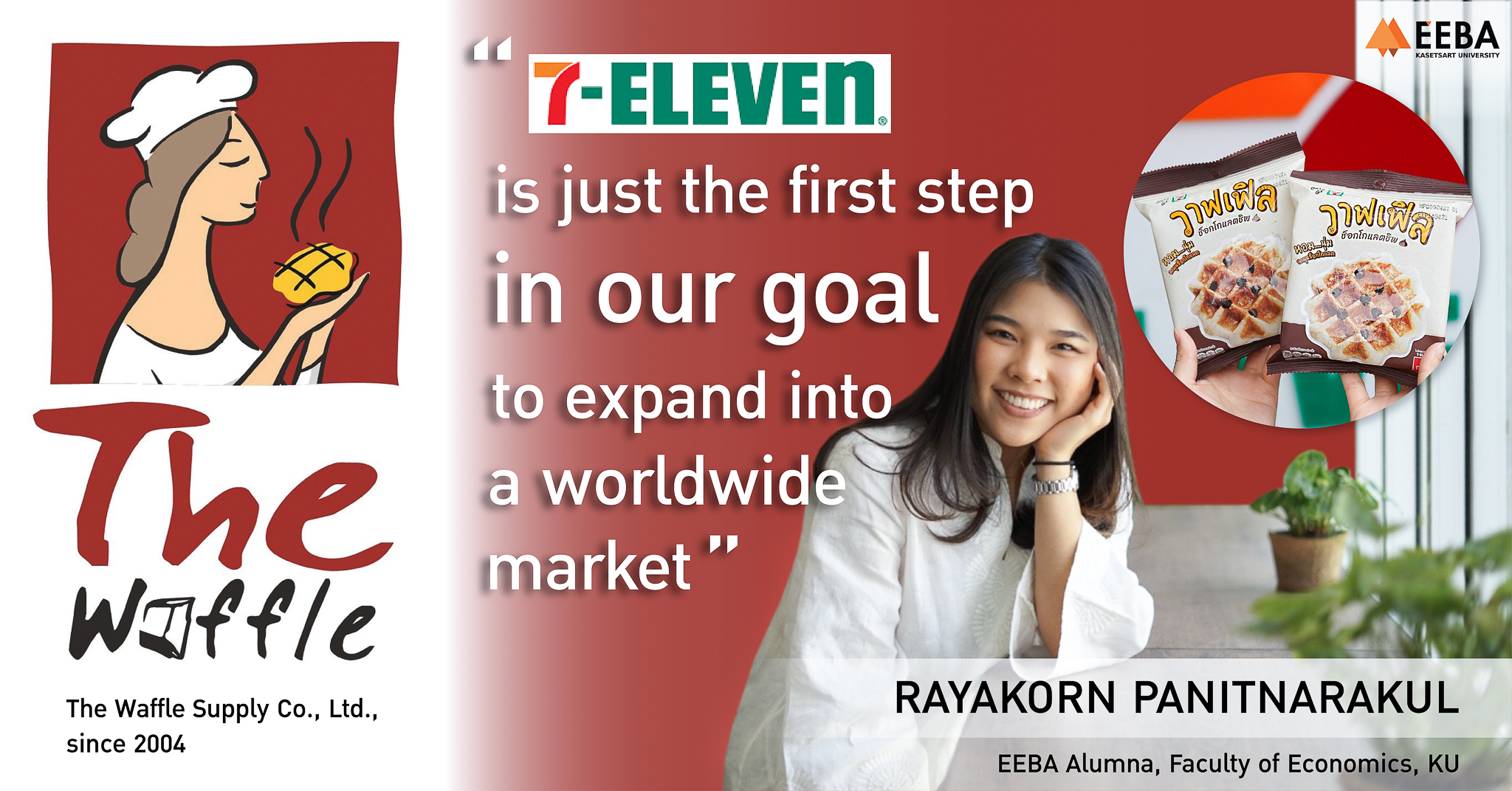 Introducing the business heir to the famous pastry shop, The Waffle, let's get to know her as she shares her story.
Hello! My name is Rayakorn Panitnarakul or "Toon". I graduated from EEBA, Faculty of Economics at Kasetsart University and I majored in Agricultural Business and Food with a minor in Logistics. Since my freshman year, the university life has been fun and amazing for me. I participated in many activities, events and camps where I made a lot of new friends.

During my junior year (3rd year), I was head of ETG (Economics Training Group) of EEBA where I managed the activities within our major. That year, I also started thinking about my plans after graduation. It was getting close, and yet I still had no idea what I should do or what I'm passionate about. My family's business was an option, however, at that time, I thought that it just wasn't for me.
It took me only 3 years and a half to finish university and back then, I planned to get into the Work & Travel program before starting a new job. Unfortunately, the situation did not let it go as planned; not having been able to go for the Work & Travel program, I had to focus solely on beginning my working life then.
I still had no clue on what I wanted to do in life…
I started applying for jobs aimlessly—just browsing through interesting positions and matching the amount of salary provided. It was absurd that I didn't even know the job scopes of the positions I applied for. I spent a whole month waiting for replies on my job applications.
I realized I was idly wasting time and so I decided to try working in my parents' company. "At least, there I'd be able to experience the real-life working situation", I thought to myself, before resuming my hunt for another job that would suit my interests.
The longer I worked in my family's business, the bigger the responsibilities that were entrusted to me, and I knew I couldn't just simply leave it behind. In the end, I officially became an employee of my family's business, The Waffle Supply Co., Ltd.
The Waffle Supply Co., Ltd., since 2004, mainly runs as a franchise business under the brand "The Waffle" with more than 100 branches within the country. For almost 20 years, we've been the leading and the all time No.1 waffle brand in Thailand. We developed our product with plans to expand to a new market and now we have the "Hello Waffle" product, a ready-to-eat waffle which is sold in 7-Eleven stores. Although, getting into the 7-Eleven is already a big achievement for the business, it's just the beginning of our new path to expand and grow into a worldwide market.
The reason I chose to study EEBA at KU…
The main reason why I chose EEBA was because this program combines both Economics and Business courses which I found to be very interesting.
As a SME entrepreneur, the economic skills I gained made me capable of understanding the nature of the market more efficiently, while the business skills helped me utilize the basic techniques on how to work on and stay in the market. The EEBA program not only provided the knowledge I needed but also gave me a lot of experiences. I had good relationships among friends, professors, and especially our office staff that warmly took care of us the whole time.
In addition, the program also offered extracurricular activities that gave me a huge advantage in my current profession. Outside the classroom, I was able to practice working in teams and even more so, I also gained leadership skills which we all know is vital in the workplace nowadays.
In my point of view, graduation just formally marks the end of the student life and the degree is just a piece of paper. Taking on opportunities where you can experience hands-on working conditions will give you a much more fighting chance in the ever-changing competitive workforce.