"EEBA Alumni: 3 different jobs in 3 different companies"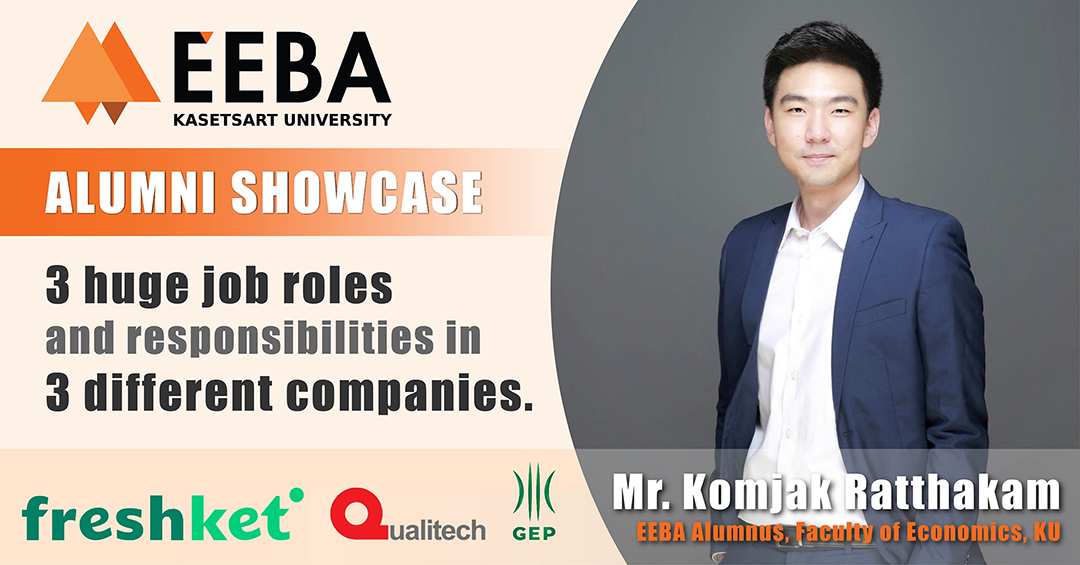 Introducing Mr. Komjak Ratthakam, one of our EEBA alumni who is now working in 3 huge job roles and responsibilities in 3 different companies.
We had the chance to interview him regarding his work and his experiences with the EEBA program. Read on to find out how the EEBA program helped him build his career.
About the EEBA program
Mr. Komjak Rattakham graduated with a Bachelor's degree in Entrepreneurial Economics back in 2014.
His reason for choosing to study in the program was because, "it offered solid foundations in business management and economics. The program also came up with its uniqueness in elective choices for students tailored for their interests. EEBA is distinguished from others due to an opportunity in obtaining double degrees from well-recognized universities abroad as well."
"The program is well-balanced in multiple areas of business, providing an integrated foundation to fully equip the students for upcoming real-life challenges in the business world. It covers macro-wide economic understanding and mechanism, down to the particular fields related to businesses."
How did the EEBA program help you in achieving your professional and personal goals?
"The program allowed me to explore a variety of business fields. This enabled me to find out what suited me the most and to further develop the focused knowledge, which was corporate finance in this case. It also provided a strong ground for all aspects of managing and running the business, which is one of the key qualifications for being a top management."
He also mentioned that, "Apart from the astonishing learning experience and academic background, I had also learned how to practically manage projects and lead teams by participating in a great number of student activities. In the program, friends and colleagues are diversified which provides a broad background for experience sharing among peers."
His work background
Prior to joining Freshket, he was a Strategic Finance Lead at Grab Financial Group and was an investment banker at Maybank Kim Eng. Currently, he holds several positions in different companies including:
Chief of Staff at Freshket. Freshket is the country's leading agritech startup, enabling a seamless supply chain platform for fresh produce and groceries. His role here is to act as the CEO's extension. He leads financing and strategic planning functions ranging from fundraising, strategy and budget planning to business development and investor relations.
Director (Board member) at Qualitech PLC. The company is a listed company in MAI providing engineering inspection services and consultancy. He oversees the business directions and governance.
Advisor at Green Earth Power (Thailand) Co., Ltd. This is a holding company investing in renewable energy business in SEA, with its current focus on Myanmar. Prior to the role of advisor, he was also the Business Development Director at the company. He led the investment and financing, including capital market activities, project feasibility study and development, and mergers and acquisitions from end-to-end. Currently, as an advisor, he helps the company close the gap of CFO in special or inorganic transactions such as restructuring and M&A.
What is necessary in order to make it in this industry?
He works with the aim to take on new challenges in his professions. The skills and characteristics essential for these types of jobs are knowledge in finance, accounting, transaction execution, project management, strategy, leadership, critical thinking, analytical skill, decision making and effective communication.
In the future, he hopes to see and continue to contribute to these companies that will make them all the more move forward and become needle movers for the industry and its stakeholders.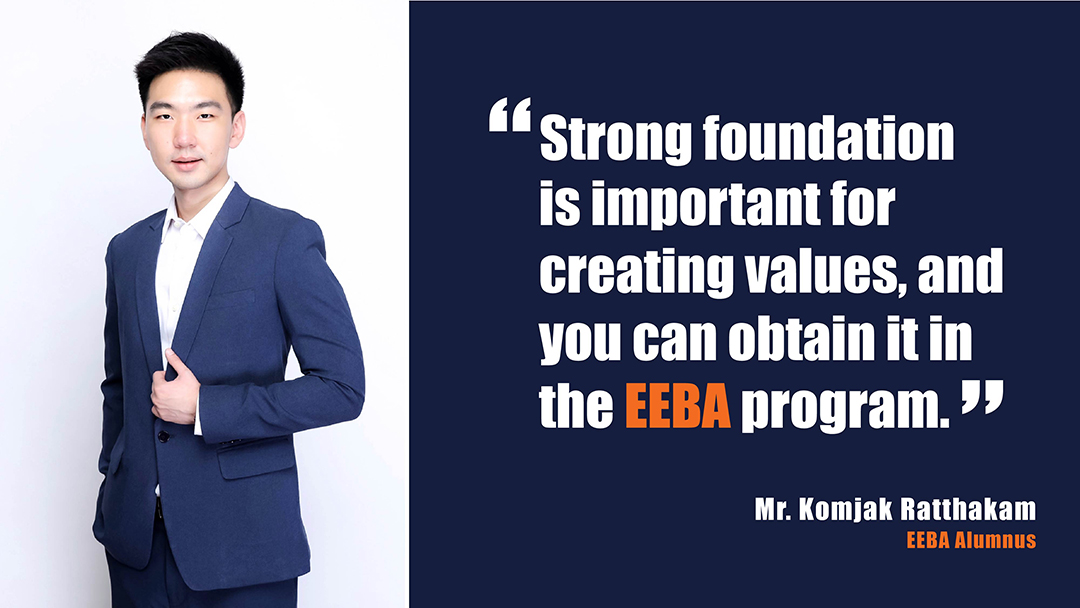 His advice to both our current and potential EEBA students, "Strong foundation is important for creating values, and you can obtain it in the EEBA program."