"EEBA Alumni: MSc at University of Manchester and PhD at University of Reading"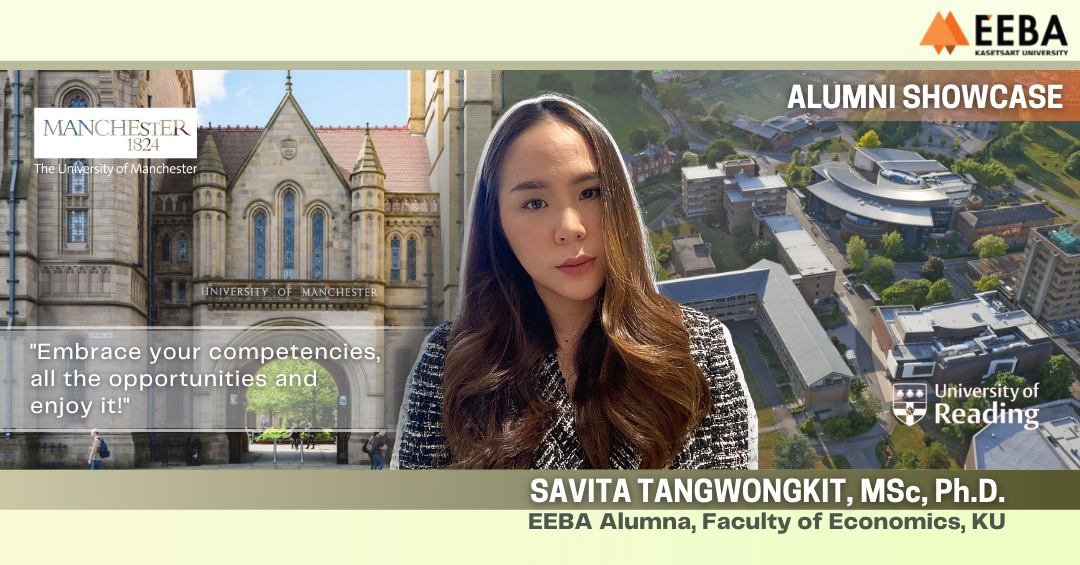 Dr. Savita Tangwongkit, EEBA Alumni
Savita Tangwongkit was a student in the EEBA program, who majored in Agricultural Business and Food. She completed her Bachelor's degree with flying colors – having been awarded with Second Class Honors within 3.5 semesters, she graduated back in 2014.
Her Bachelor's degree with the EEBA program
Growing up, Savita has always been fond of languages, English in particular. Prior to studying in EEBA, she spent her senior year of high school in the USA as an exchange student.
"My most favorite class of all was Economics, and it was at that moment I knew studying Economics in an international program would be a perfect match for me, and the best choice to start on for my academic journey."
She was inspired to choose Kasetsart University, as both of her parents are professors at the Faculty of Agriculture. She spent most of her childhood and summers in her parents' office. She grew to love the environment, atmosphere and everything about the university as this was, in a way her second home. Most importantly, she trusts the university's academic excellence.
All in all, the striking reasons that drew her to choose to study in this program at this university was her self-interest in Economics, compounded by her fondness in English communication and having spent most of her youth in the university.
"EEBA met all the qualifications I wanted to pursue and the program offered me the specialization I was seeking for."
Savita shared that there were a thousand things that she had acquired from EEBA, all of which were extremely essential and had assisted her through her transition from postgraduate study to a wider academic community.
She mentioned that,
"In terms of skills, every course offered by EEBA provides all the foundation, knowledge and skills that are needed to meet the higher academic qualifications. I have to say that through the courses EEBA has provided, my PhD journey became easier and was much less of a pressure than I expected.
Given the Principles of Microeconomics, Marketing for Agri-enterprises and Agriculture & Resource Economics as examples, these courses provided me with all essential knowledge I needed in contributing to my research in the agricultural economics field.
With my EEBA background, I was able to formulate ideas about research, its methods and the process. It helped me a lot in designing and structuring my thesis, especially in the fields related to agricultural products, farming and the agricultural business sector.
Another subject that had much relevance to my work and I would have been struggling to perform if without it, would be the Fundamental Econometrics. This subject played a major role in helping me when it came to performing the entire data analyses of my work, and it drove the development of my thesis forward much faster, more organized, and much more smoothly."
According to her, if you are about to pursue PhD and have zero background or knowledge on how to perform your analysis and what other aspects need to be taken into account, you will have no other choice but to start from scratch, which she has seen in many of her colleagues. It was a very challenging path and it made their research process much harder than hers.
In addition to obtaining essential skills needed, she said that EEBA also provides you with a network of connections with successful academics and experts in the field. During her PhD journey, there were several times when she found issues in her work, and she was able to get in contact with a couple of her previous EEBA professors, to ask for their scientific based advice. They were nothing but nice as they gave their useful suggestions without any hesitation at all even though she had graduated from the program years ago.
How did EEBA help you in your life goals and plans?
Back then, although she wasn't entirely sure of which area of Economics she was passionate about, studying in EEBA helped her discover her field specialty, Agricultural Economics.
"Joining the EEBA program was more than just an education. The program gave me experiences, skills, confidence and knowledge relevant to improve my career prospects and helped me reach the career of my choice. For me, this program and my chosen major were the best choices I have ever made, otherwise I might not have made it this far to be where I am today."
As a person who always wanted a career where she is constantly learning and improving, just like her parents, she made it a goal to also go into academia as a career path. She is looking forward to the challenges of having fresh knowledge, researching, publishing her own works and building her ability in her chosen field.
To potential and current EEBA students
Savita's advice to those interested in the EEBA program,
"When you join EEBA, you will become part of a thriving community of undergraduate students. You will learn from friendly and approachable academic staff who are experienced leaders in their fields of expertise and in such a positive environment. They will constantly encourage and support you throughout your entire journey as a student and beyond.
By joining EEBA, you will be equipped with a strong understanding of the broad principles of entrepreneurial economics. The program will be a stepping stone for a wide range of professional careers as it will help you progress your career forward successfully."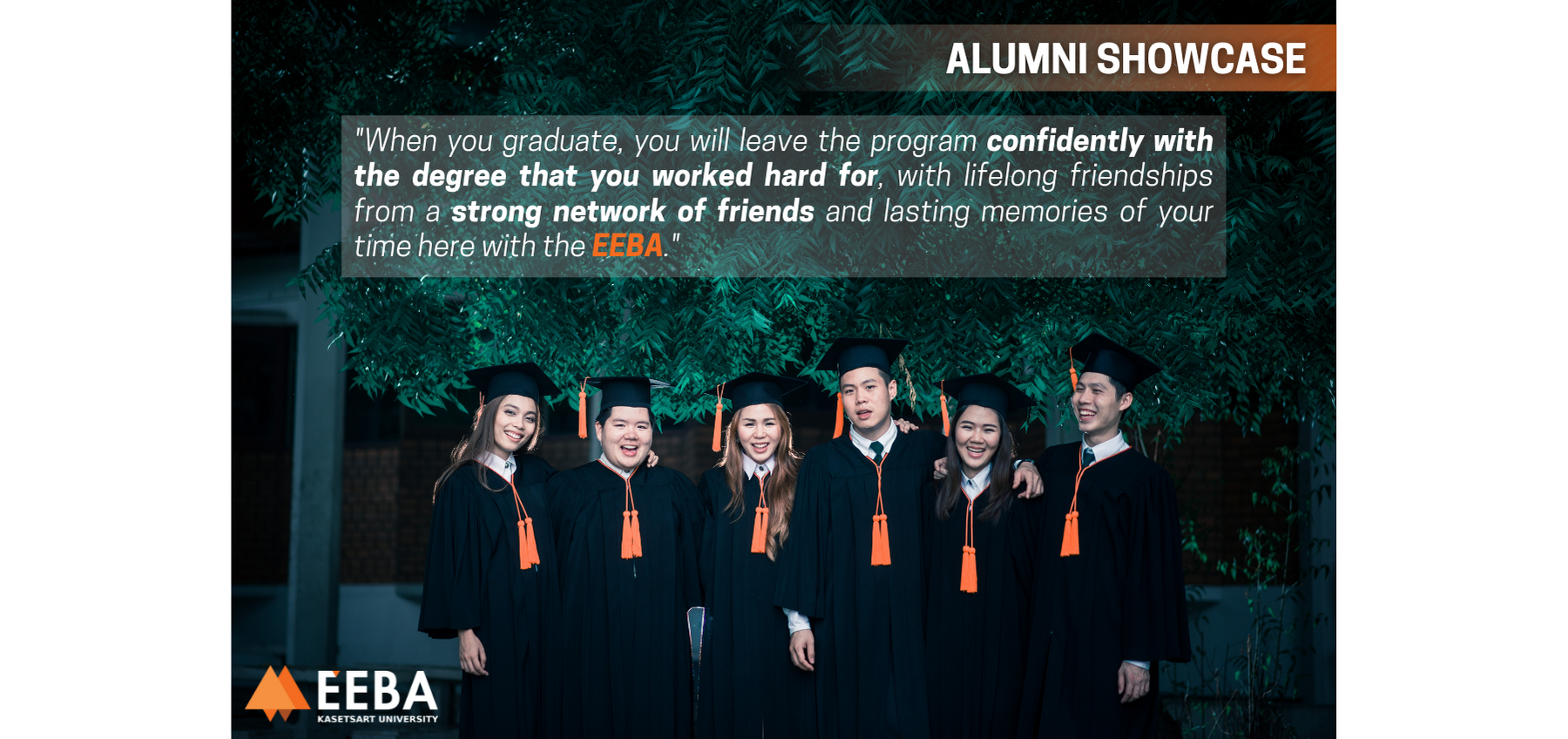 MSc at the University of Manchester, UK
2015 – The Degree of Master of Science in International Business and Management with Merit, The University of Manchester, UK
There were several reasons as to why Savita chose to pursue her Master's degree in International Business and Management at the Manchester Business School.
The course also gave her the opportunity to learn and gain a thorough understanding about different successful business management practices in the global arena.
First and foremost, the course had allowed her to master her knowledge on the subjects she loved from her Bachelor's – to develop the ability to think and be equipped with the vital skills and a global perspective for today's globalized economy, particularly in an international context.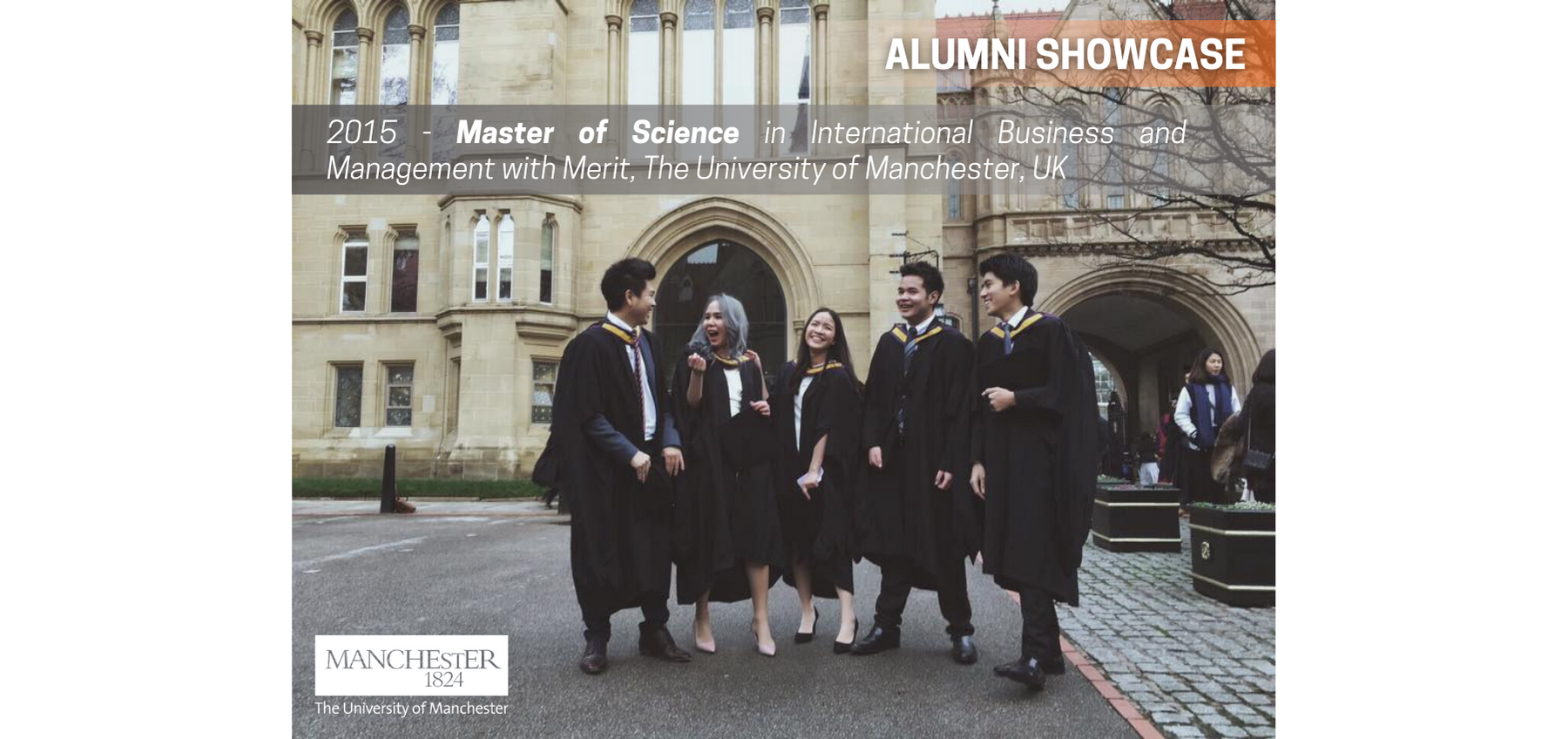 Since international business often deals with multinational enterprises, their management and strategies and their role in both globalization and localization of economic activities, studying in this field allowed her to build a sense of how globalization has brought about a growing connectivity between businesses, markets and individuals across nations.
Above all else, this course has also enabled her to explore and gain expertise in the political economy and how it can influence international trade, which has always been the area that has deeply interested her the most.
"The Manchester Business School, MBS is a triple-accredited and research-led Business School. This course, in particular, is currently ranked 5th in the UK and 24th globally according to the QS Business Masters ranking 2021, while the university itself has current international rankings that are placed among the world's best universities for its best research performance and academic reputation (i.e. ranked 23rd, 27th, and 35th by the Time Higher Education, QS, and Academic Ranking of World Universities, respectively)."